IF I COULD ONLY MAINLINE THIS DRUG
SINGING TO THE TUNE OF THE OSCAR MYER
WIENER SONG: "Mmm MY ADDICTION HAS A
FIRST NAME, IT'S........."
You all know I'm pretty anti-hard drugs, but if I could get this shit into a needle and shoot it, you all know damn well I would do it in a heart beat!!! I'm well over four months into this game and finally have this guy: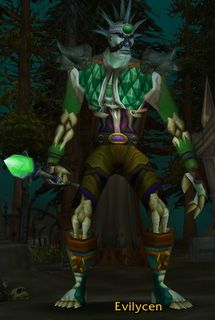 up to level 47. He's an Un-dead Mage named Evilycen. You can find hime on the Kargath server. I also have another guy I'm working on a level 29 Orc Hunter: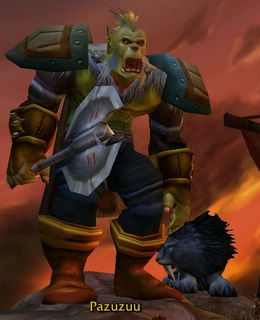 named Pazuzuu. Notice the cat in the background, his name is CaptainHowdy, he's Paz's best friend and he's a mean son-of-a-bitch! It took me three weeks to find that bastard, very rare pet in the game. Anyone catch "The Exorcist" references? Both of these guys (the cat too) side on the Horde side, the evil or not so nice side in World Of Warcraft. I have two other guys I'm working on as well. First there is: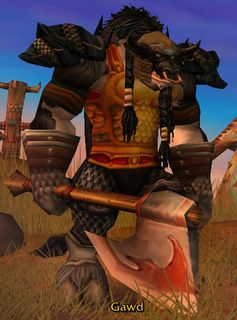 A lvl 27 Tauren Warrior named Gawd, who existed way before that silly Christian myth by the way, who I am hoping to move to the Kargath server, and this guy:
A level 15 Gnome Warrior named Fancypants on the Alliance side. He's a dancer at heart, he loves Tecno Industrial music. I'm not lying! Anyway, I love this game!!! Isn't it funny that this computer took a dump, wouldn't let me surf the net, wouldn't let me text message anybody, or even read my e-mai, but it would let me play this silly game without any problems. An act of God, or a silly devil inspired glitch? You tell me!!!!!!